Transportation
Our house is conveniently located between two underground stations -- Kensal Green (8 minute walk) and Kensal Rise (5 minute walk) -- and pretty easy walking distance to a third (Queens Park, 15 minute walk). There are also many bus routes around the Kensal Rise stop making this an incredibly rich transport hub.
🚉 Train Stations
Kensal Green Station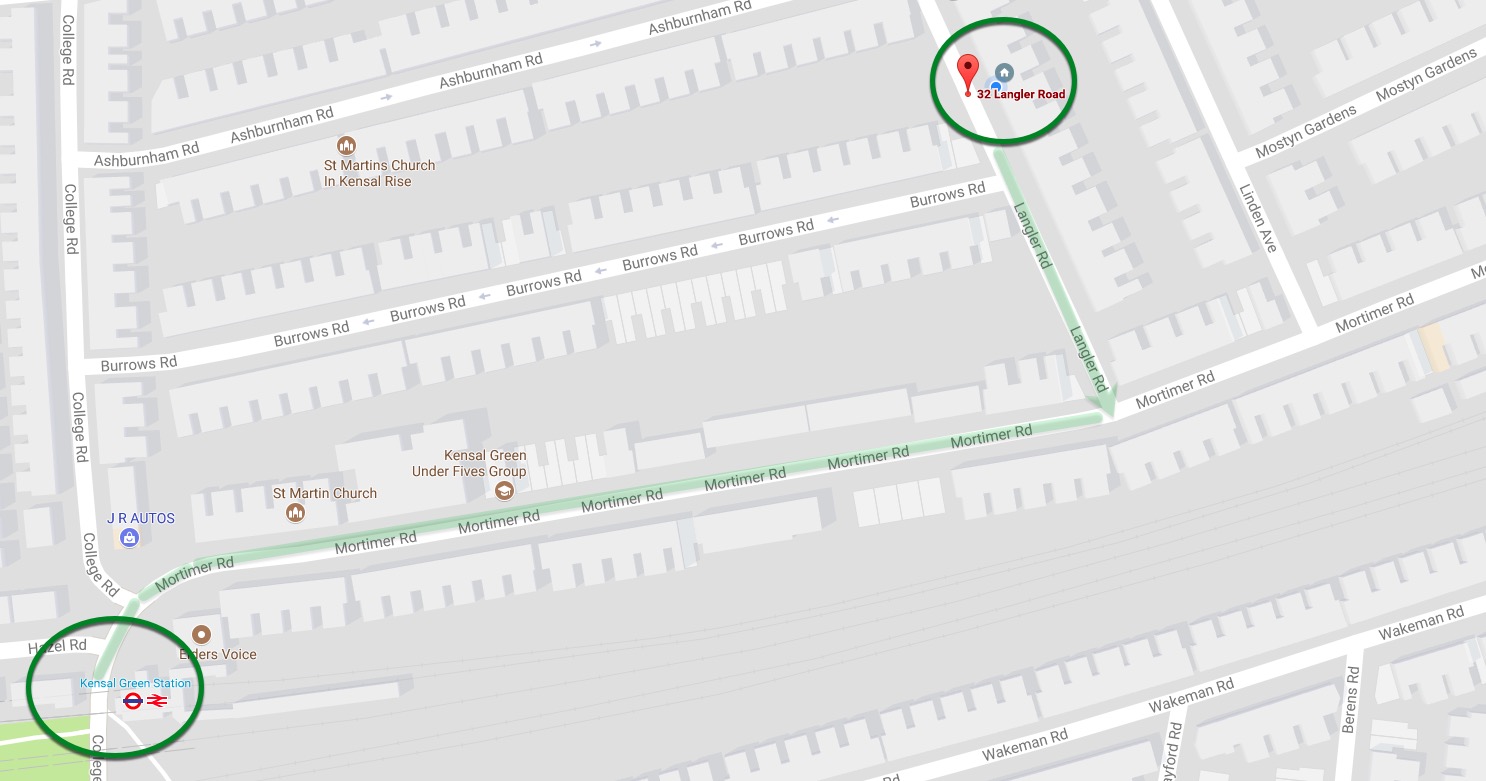 From House to Kensal Green:

Take left out of house
Follow Langer Road to the end and take right onto Mortimer Road
Follow Mortimer and keep eye out for station on the left hand side of the road

From Kensal Green to House:

Take a right out of the station
Curve toward right while staying on Mortimer road
After passing first road on left (at the curve), the next road on your left will be Langler
Take the left and keep an eye for 32 Langler on the right
Kensal Rise Station
This is the closest station to the house and a great station to catch a ride to edgy/cool East London or for a nice walk in the upscale Hamstead Heath park: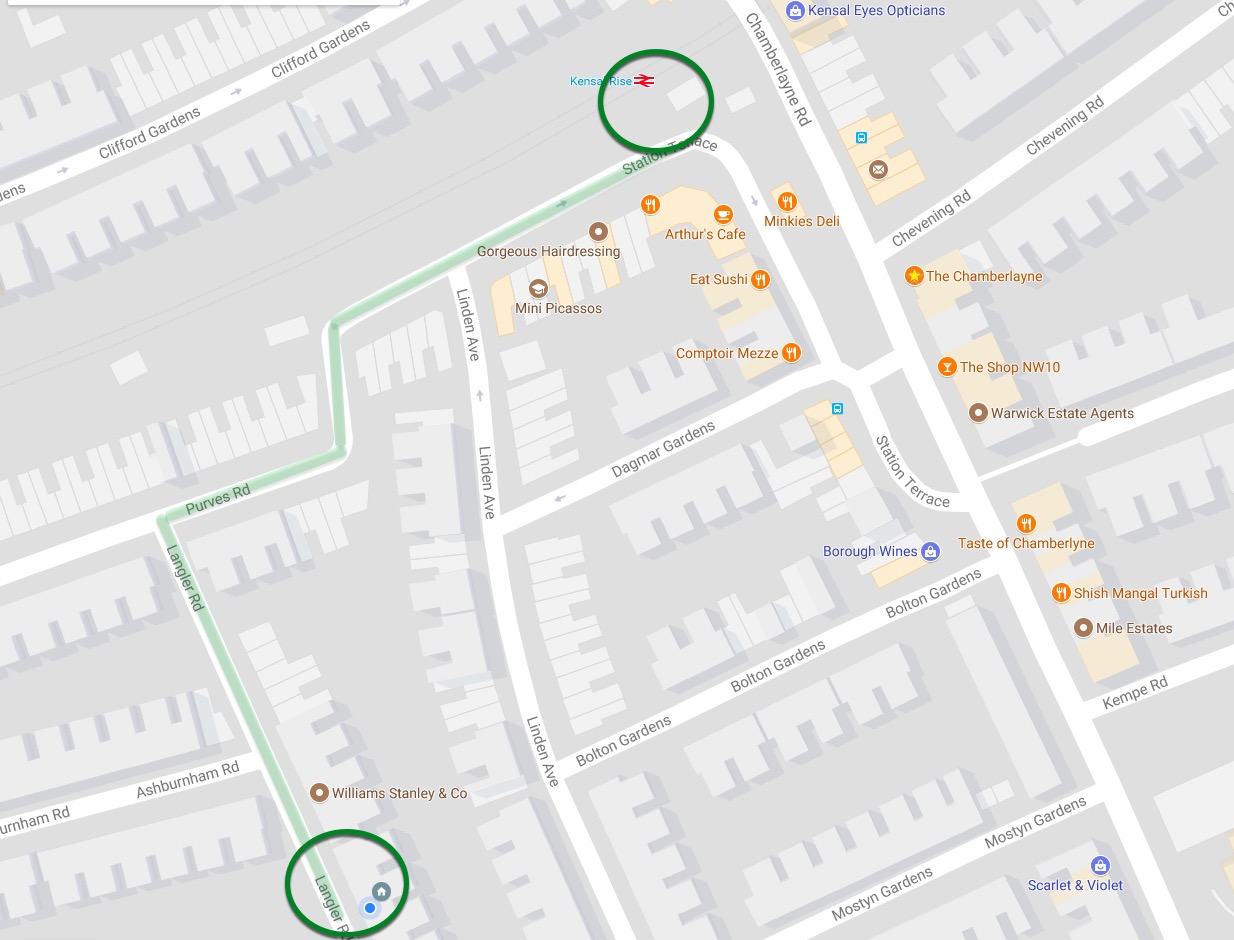 From House to Kensal Rise Station:

Take right out of house
Follow Langer Road to the end and take right onto Purves Road
You will zag left, then zag right ... straight ahead for 100 yards and the station is on the left

From Kensal Rise Station to House:

Exit from the lower station exit (this may mean you have to cross to the other platform to exit below)
Take a right on Purves road, staying on the road through zag left, then right
Take left onto Langler Road, house is on the left
Queens Park Station
You'd take the walk to Queens Park only if you want a bit of a walk to get there. It is likely one stop closer to where you're going (aka, central london) but it's 3-4 times further away. That said, it's a nice walk and you do walk past Queens Park (a small park but nice). On this route you'll also see the "high street" of both Kensal Rise (Chamberlayne Road) and Queens Park (Salusbury Road) which host a vast majority of the coffee and dining options in this area.

From House to Queens Park Station:

Take left out of house
Follow Langer Road to the end and take left onto Mortimer Road
Follow Mortimer all the way to Salusbury Road (police station will be left side)
Turn right and the then station will be on the right about 200 ft away

From Queens Park Station to House:

Take a left out of the station
Left again on Mortimer road
Follow Mortier past park and eventually crossing Chamberlayne Rd
Langler if the second right after crossing Chamberlayne Rd
You will find the house on the right
🚊 Train Lines
Overground Line
The overground trains, typcically but not always, run above the ground. Imagine that. They are a newer addition to London transport than most of the Underground trains and the trains tend to be a bit larger and more efficient in size. The frequency with which they run is constantly improving but typically they are less frequent than the underground trains (like the Bakerloo). Also unlike most of the underground lines, they are multi-path so you'll need to pay a bit more attention that you're on the right Overground train.
In this area you can pickup the Overground line from both the Kensal Green station (see above) and the Kensal Rise station (see below). If you are at the Kensal Rise station please be aware that both Bakerloo and Overground lines use the same tracks so be sure you're getting on the right train.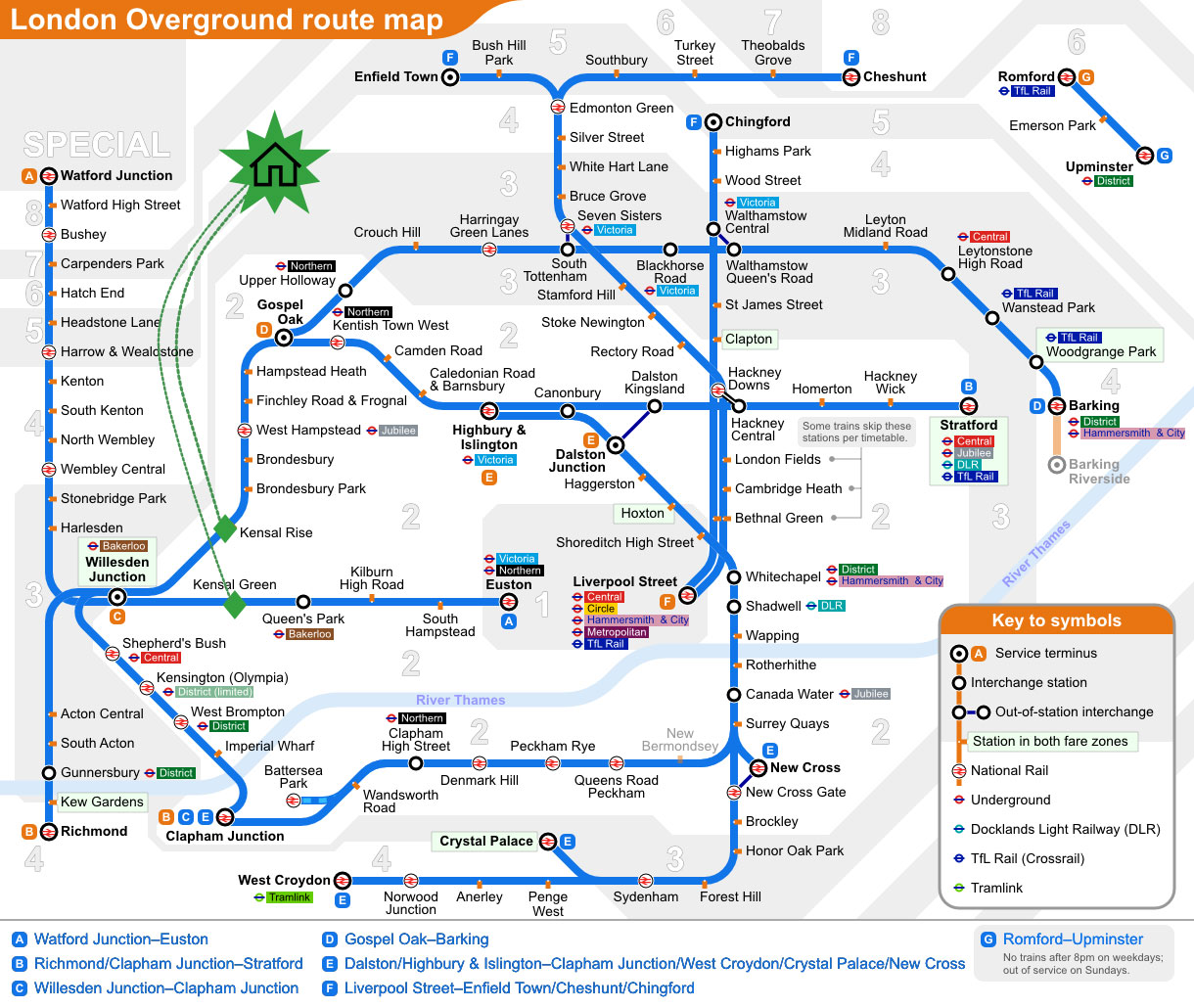 Bakerloo Line

One of the oldest trains on the Underground circuit, the Bakerloo originally only went from Baker Street (in Marylebone) to Waterloo station. Today, however, it goes much further north and somewhat further south. It is a consistent and reliable way to get into central london and there are two stations which are close enough to walk to. The closest -- the one we most regularly use -- is Kensal Green.
🚌 Buses
You will find several bus stations in and around Kensal Green station. The lines I take the most end up being the 6, 52, and 452. These are great lines for getting to locations in South-Western London like Notting Hill, Knightsbridge, Hyde Park, and Chelsea. But beyond these lines, you can also find the 28, 187, 302 and 316 lines.
You can find a map of stops and the busses at those stops here: Bus Stops Nearby
✈️ To / From Airport
- Heathrow
Heathrow is the closest airport to us and there are a number of reasonable ways of getting here.
Our most common method of transporting these days just taking Uber. Costs will range based on your terminal and the time of day (aka, traffic) but typically an "UberX" (aka, normally sized car) will cost £30 - £45.

Similar to above you can take a Black Cab and it's maybe mildly easier to pickup transport (as they queue outside instead of you calling them) but it will cost more (it used to cost a lot more but they've become more competitive).

The last option is to ditch cabs of any variety and take the Heathrow Express. The express brings you into Paddington station which is close to our place. From here you can either take the Bakerloo line to the house or jump in a cab here. Considerations:

If you fly into Terminal 4 then the express is more convenient than other terminals (as it's a direct line, no transfer)
The express trains are almost never crowded and are a quiet, clean, and time-predictable of getting here
The cost of individual tickets (versus a shared car) means that this is more expensive option than a car.
- Gatewick
The options from Gatewick are structurally similar to Heathrow (see above) but Gatewick will take roughly twice as long (~ an hour). It is also probably worth discounting the Gatewick Express option as it drops off at Victoria Station instead of Paddington and really lowers the convenience considerably. I'm less certain about
- Stanstead or City